Caoimhe Farrell, RVN, Registered Veterinary Nurse
Meet Caoimhe Farrell!
What is your job title in Cara Vets?
Registered Veterinary Nurse BSc VN
What made you want to be part of the veterinary world?
When I was growing up I always loved animals. We always had a pet dog too. When I was 16 I did 4th Year Work Experience with Cara Vets, which I enjoyed but when I took part in the Killester College course and worked with Cara on a weekly basis, it was then that I knew I wanted to be a Vet Nurse.
When did you join Cara Vets?
September 2007
What do you do?
Patient care: feed, walk, medicate animals; radiographs; anaesthesia and provide surgical assistance to the Vet. Hospital maintenance: cleaning etc. I also enjoy spending time with clients and answering their queries.
Any qualifications?
FETAC Level 7 Certificate in Animal Care Assistant.
Honours Degree in Bachelor of Science in Veterinary Nursing from UCD
What do you love about your job?
I love treating and caring for all of our wonderful patients. I also love all of our dedicated staff and that no two animals are the same.
Who is one of your most memorable patients and why?
Toby Creedon. He was a wonderful patient and also so happy to see us. I knew his owners well and was upset when he went to heaven.
Any hobbies?
Outside of work, I love going to gigs, playing guitar, playing with Sadie and I'm a regular at the gym. My favourite past-time is going on holidays.
Any pets?
Sadie: Yorkshire Terrier
Pinky: Goldfish 
Where did you meet your pets?
Sadie came from a lovely lady in Rathmines. I found her through work.
Pinky was bought in Pet Stop in Blanchardstown when they first opened.
What made you fall in love with your pet?
When our last dog Buddy passed away, there was a big hole in our hearts, especially my Mom's. She's always had Yorkies and I knew she would love a new dog so I found Sadie for my Mam and we all fell in love with her straight away.
When did your pet come to live with you?
Sadie: Dec 2015
Pinky: Feb 1999
What does your pet enjoy doing and where?
S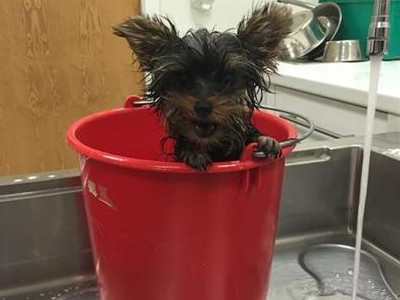 adie: eating everything she can find, playing and running.
Pinky: swimming and eating in his bowl.
Any funny quirks / lazy / energetic things they do?
When Sadie is in a huff, she sulks in her bed. She also loves to hunt anything that moves!