Fear of Fireworks Sounds CD for Cats, Dogs, Rabbits and Horses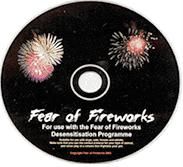 The clinically proven solution
Developed by vets and Animal Behaviour Experts, this fear-reducing programme will help overcome your pet's fear of fireworks.
Cost: €24.99.
The Fear of Fireworks Sounds CD for Cats, Dogs, Rabbits and Horses
This CD has been recorded on the night of a bonfire party, with all the bangs, whizzes, pops and squeaks, some distant, some closer to. The idea is that you play the CD on a regular basis, starting at a very low intensity, increasing the volume over a period of time. You aim to never upset your pet. Over a number of weeks, your pet will become less responsive to these sounds. Play the CD in the evening when the fireworks are going off and it will also mask the sounds outside. When used for dogs, we recommend the use of a dog appeasing pheromone vapouriser (D.A.P. ) with this protocol in order to maximise the calming or your pet.
Suitable for use with dogs, cats, rabbits and horses.
Sound quality
The quality of sound you present to your pet is very much dependant on the quality of the machine you play it on. The CDs are of a quality that will make you jump yourself when a firework explodes, provided that they are played on a quality stereo.
To make a purchase
We apologise for the inconvenience, but we are currently unable to take online orders for this product. However, you can still order over the phone by following these simple steps.
2 Simple Steps!
Place your order with us and pay by credit card
*Subject to availability. Terms & Conditions apply.
Did you know?
Now you can also order pet supplies and prescription-only medications on the phone and get it delivered straight to your door. Simply contact us to place your order.