Kirsten Cole RVN, Head Nurse
Meet Kirsten Cole!
What is your job title in Cara Vets?
 I am Head Nurse here in Cara Vet Group.
What made you want to be part of the veterinary world?
I always wanted to work with animals. I think I was about 11 when I knew I wanted to be a Vet Nurse. I never wanted to do anything else.
When did you join Cara Vets?
I worked on Saturdays in 2005 - 2006. I've been a full time member of staff since 2006.
What do you do?
I take care of hospitalised patients and boarders, take blood, place IV's (I'm the IV Queen!), monitor anaethesia, nurse tasks, vet and nurse rotas, and I also train students.
Any qualifications / achievements?
I am a qualified Registered Veterinary Nurse from University College Dublin, and also have a Diploma in Veterinary Nursing.
In 2015, I was delighted and honoured to win the coveted title of Irish Veterinary Nurse of the Year 2015.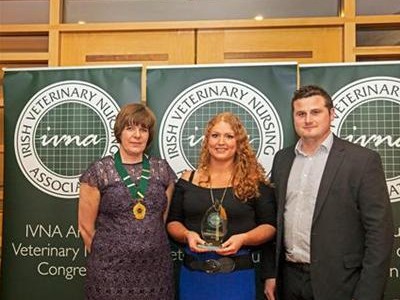 Click here to read more about Kirsten's well deserved win.
What do you love about your job?
Everything! Taking care of patients (and owners) and giving comfort to all.
Who is one of your most memorable patients and why?
Too hard to choose. There are so many patients I love, I couldn't name one.
Any hobbies?
Kirsten spends her spare time listening to music, going out with friends and shopping.
Your pets' names and breeds?
Bailey, 13 years old (cross breed)
Beamish, 12 years old (cross breed)
Baxter, 6 year old (cross breed)
Madra, 6 year old (cross breed)

How did you meet your pets?
In Ashton Dog Pound. Bailey was rescued by Syd.
What made you pick them, or maybe why did they pick you?
Syd chose Bailey for us. Beamish sat on my feet in the Pound and wouldn't get off. Baxter and Madra were cheeky looking.
did your pet come to live with you?
They were all about 1 year old when they were rescued.
What does your pet enjoy doing and where?
Food! Walks on the beach... Baxter loves to sleep under the duvet!
Any funny quirks / lazy / energetic things they do?
They are all mad! Bailey loves to visit work and see everyone.