Important Notice Re COVID-19
Updated: 4th June 2020
Dear Client,
We appreciate your co-operation with social distancing and we are doing our best to protect you, our client, and our staff. 
We are delighted to announce that all services have now resumed. To protect the health and safety of our staff and clients, we are adhering to the latest Government Guidlelines. You are advised to:
Ensure that social distancing is adhered to at all times
Wash your hands well and often
Cover your mouth and nose with a tissue or bent elbow when coughing or sneezing, and discard the used tissue safely
Limit your contact with others when out and about
Distance yourself at least 2 metres away from other people, especially those who may be unwell
Avoid crowded areas. If an area looks busy, go somewhere else and return at a quieter time
Wear a face covering in some situations where social distancing is not possible.
We will keep this page constantly updated with the latest developments that affect you in regards to our veterinary care for your pet.
NCR Clinic
We are once again able to provide a Vet in the Cara Vet Clinic on the North Circular Rd. Check out our Opening Hours and Consulting Hours. Check out Opening Hours.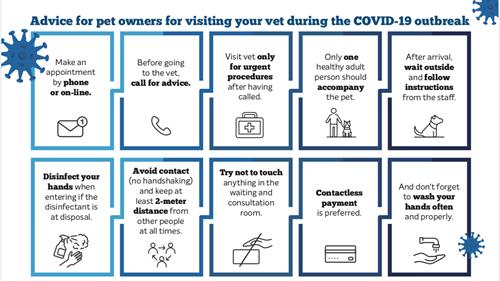 Note from Sydney:
Please note the following in-house restrictions we also have in place:
All visits should be by appointment only. We will see emergencies as fast as we possibly can, as ever, but please call us first. We will be having 15 minute appointments so as to reduce the in-out flow. This may mean we will have somewhat less capacity - please understand if you cannot be seen at the time you prefer.
When you are coming please make sure it is one person only with your pet. If it is essential that more than one person attend please call your vets to discuss in advance. 
Please wait in your car and call the reception to let us know you have arrived. When we are ready to see you, you will be called in.  After a brief explanation to the vet about the purpose of the visit your pet will be taken into the treatment area examined treated and returned to you. Medications etc will be given to you at reception.
If you have children - please do not bring them. We love having families in with their little pets but until this crisis has passed it is best children do not attend. If you must bring your children with you - which is of course understandable if they cannot be left at home alone - please leave them in the car if they are old enough. If they are too young to stay in the car then the nurses can collect your pet and drop them back to you, and the vets can discuss everything with you at the car or by phone. 
For repeat medications and for pet food please call your vet with at least 48-72 hours notice so that we can have them ready for you. Have a look in the window and if there are a few people in the waiting room please wait outside until people leave. The nurses can drop your medications or food to the car if you like, just call when you arrive. 
Where at all possible please pay by card, contactless is available in general. The key pad will be disinfected between people using it. We can also accept bank transfer payment if asked. If ordering food/medications by phone you can pay over the phone at that time.
If you are unable to come in - be it that you are unwell or you wish to self-isolate - we will do everything we can to help. Call us and we will look after you and your pet as best we can.
Please be patient with our brilliant and caring staff if there are delays, we are doing our best but all of these extra precautions are going to slow up things a little. 
If you arrive on foot with your pet, please call us to say that you have arrived and our staff will instruct you when to come inside or they will take your pet from you for the vet to examine.
To conclude - we will get through this. The steps our government is taking and the advice being given is excellent and is based on the best scientific information available, so please do what we are advised by those who know. 
It will get better, we will mind each other and we will persevere.
Yours sincerely,
Sydney Nagle MVB MRCVS
Video Consults now available
Speak to a Vet - from the comfort of your home!
In order to be proactive during the Covid-19 Outbreak, we are delighted to let you know that we are now offering Video Consults. The perfect solution for those of you self-isolating or cocooning at home!
The process is very simple, just follow these steps:
Book your Video Consult online. 
Once you have confirmed your booking, you will receive an email with a link that you simply click on to access your Video Consult with a Vet at the arranged date and time. No app to download!
Your video consultation will take place at the arranged date and time. Your vet will advise you of the next steps you need to take. The cost for the Video Consult is €40 so please ensure you have your card details available to make payment during the Video Consult. 
Book Online
Please help us keep our phone lines open for emergencies and book your appointment online. BOOK NOW